All About Connectivity – Remote Support for Optimal Processing
The challenges we face due to the Corona virus have led to new ways of cooperating with our clients. A need to work efficient and smart has always been important, but now – when travelling is a challenge, we are forced to find new remote support and communication solutions. "In a way, the pandemic, have brought us even closer to our clients", says Sales Manager Fredrik Rönnberg at Rosenqvists Food Technologies.
Planning and implementing a project for a new processing line today requires more active planning together through online meetings. More frequent touchpoints together in the project team leads to active follow-up and clear allocation of tasks between us and the clients team on site. It is a win for us and a win for our clients. It is not easy to be a reliable partner when working from a distance, but we believe this way of working is here to stay.
Success Despite the Pandemic
During 2020, we succeeded in starting up a completely new processing line for potato chips without setting our foot at site. Before Corona virus, we never considered this an option. To succeed with a remote start-up, we are dependant on an active and supportive team from our clients. Luckily, our customers have been fantastic to cooperate with. The project teams at Rosenqvists have spent more hours in online meetings, working through remote tools such as Teamviewer and our recently launched R-CONNECT. These tools have given our process engineers and project leaders the ability to follow progress live and to assist with the right questions, testing and settings for all systems.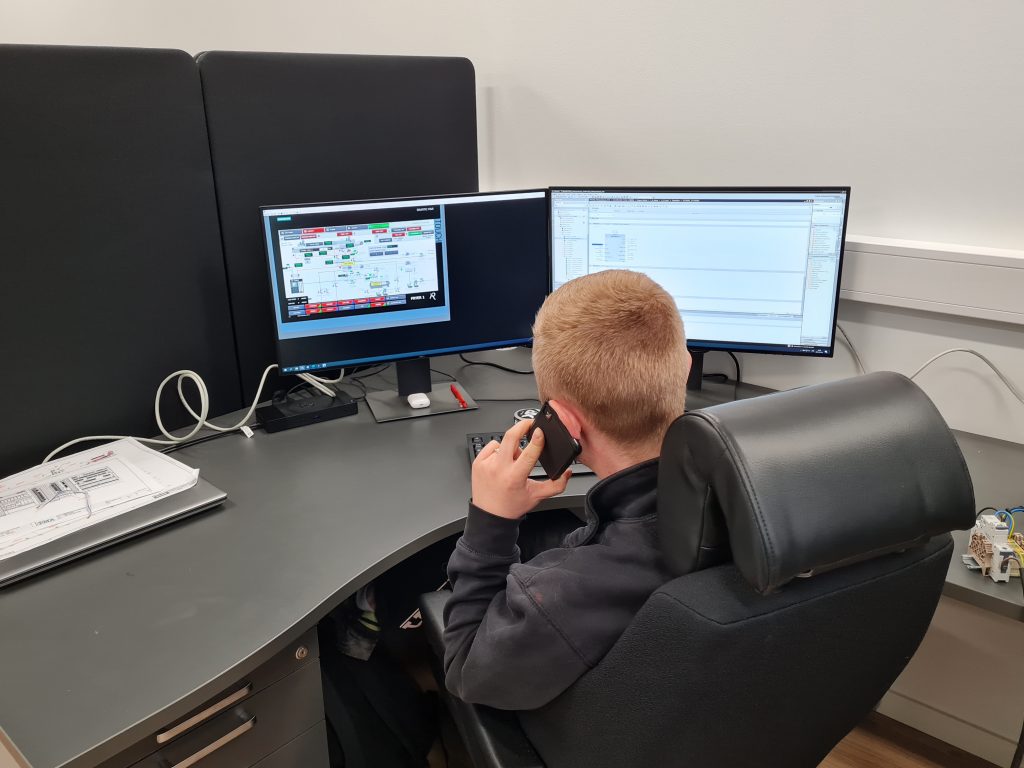 Thanks to the connectivity tools of today, we can troubleshoot and upgrade programming, test crucial sensors, change settings for motors and adjust temperature profiles in our frying systems. The R-CONNECT vpn module is a great chance to easily assist our clients whenever they need help. Through this module, we can get insights in the way the operators run our processing line and we are able to guide them in a cost-efficient way. "I strongly believe in a more frequent and productive dialogue with our clients thanks to tools like R-CONNECT", continues Fredrik Rönnberg.
Making Life Easy for the Operators
The control systems become more and more sophisticated. All sensors, motors, valves and data points offer endless parameters and settings to monitor for an operator. The challenge for us at Rosenqvists Food Technologies is to make the operators job as easy as possible. We need to highlight the right information and simplify both view and operation of the control panel (HMI) in best possible ways. With our frying systems for potato chips, our clients can produce a wide range of different products; classic chips, batch-style chips, potato sticks, different thickness, various raw material characteristics and different production throughputs. They all require their own specific settings in terms of movement of product, water usage for cutting and washing, water temperature for blanching, temperature profiles and times for frying. Our objective is to make it easy for the operator, by selecting a recipe for the product they want to produce, during a shift. During start-up of a new processing line, we support our clients to develop these settings into recipes needed for the various products they want to produce. After this, we provide the operators with training towards handling of recipes and changing settings, which gives an easy-to-use guide for the operators.
Then, of course, Rosenqvists also have built in supporting functionality for example our versatile frying system supports operation with an Automatic Set-point Temperature Adjustment (ASTA) in short. Using this tool enables the operators to keep the desired temperature profile in the fryer. If operators face challenges, our process engineers can easily connect through R-CONNECT and provide support.
Being Able To Adjust
A special area for development and improvement during last year has been our seasoning systems from Rosenqvists Food Technologies. The Seabase seasoning design has been smart, stable and cost efficient for many years. Still, managing required Catch-tests, monitoring and recipe development for the perfect application of seasoning has been a bit complex for our operators. With our latest control program, running the Seabase seasoning system is easier than ever. Catch test to measure flow of product and seasoning is a simple step-by-step guide. Adjusting application rate is a quick two click routine on the control panel. A reliable monitoring system with flow sensors and weighing scales offers reliable alarms when the application is off target. We know from experience that customers can save significant costs if they can apply seasoning in a stable way without waste.
Integration of new data points will be more important in the future. One example of this is the integration of NIR analysis we can offer today. Thanks to a good partnership with Perkin-Elmer (Perten), it is a quick and easy action to integrate accurate moisture and fat levels monitoring of the final product into the control system. We know, from experience, that fat and moisture are two crucial parameters when managing your blanching and frying systems. Therefore, it makes us happy to be able to present accurate information continuously to the operator. There is no excuse anymore to react too late when realising moisture levels getting low and the risk of Acrylamide build-up is apparent.
An Exciting Future
The processes of producing a frozen French Fry or a potato chip are the same today as they were 40-50 years ago. During these years, important improvements have been introduced such as multi-flow frying systems, 3-step washing systems, multi-turbulent blanching, pulse electric field technology, possibility of defatting products and other. Alternatives to frying in vegetable oil can today offer options, such as hot air expansion or salt roasting. Rosenqvists, as well as other suppliers, can certainly offer more versatile processing solutions which are safe and easy to use and secures a satisfactory level of food safety. Thanks to this evolution, new innovative products are launched to meet consumers interest in new products. We can see the interest in new raw materials, re-discovering traditional organic ingredients and a continued focus on health aspects. But the question how we will produce a French fry or potato chip forty years from now is a tough one? "The honest answer is that I don't know", says Fredrik Rönnberg. "We work in a very exciting industry and we will see what the next steps will be. We will most probably see more usage of large data collections and automatic systems supporting our clients to optimize processing operations and maintenance. I believe we can do more to lower cost, monitoring and maintaining product quality and save both energy and water. In the end, our job is to make it easy and efficient to use our processing equipment."